Scoring goals is all about mentality.
By Zack Wilson
Aug 30, 2010 10:32:00 AM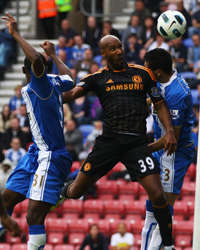 Nicolas Anelka ,Wigan Athletic vs Chelsea,EPL
Chelsea striker Nicolas Anelka believes that a miserly attitude in defense is the secret behind the Blues' impressive goalscoring form this season.

Carlo Ancelotti's men have hit 13 goals in their first three Premier League games of the new season, but Anelka feels that the foundations for that hot streak have been set further back in the team than the forward line.

"We have the mentality not to concede first and then we know almost every time we can score one goal," the former French international told his club's official website.

"You know when you play with Chelsea that if I don't score, Didier can score and if he doesn't score, Flo [Florent Malouda] can score and if none of us score, Sala [Salomon Kalou] can come on and score. Everybody can score in this team."

The form of Malouda in particular has impressed Anelka, with the winger now fully acclimatised to life in the English top flight after struggling a little when he first arrived several seasons back.

"Flo likes to listen to ragga music in the dressing room and dance and it is fun. On the pitch he is intelligent, he can score, he can assist and also he is very strong," Anelka explained.

"Now he scores more goals than before and he wants to score more and more. He has been here three years and he has got use to it, he has more confidence.

"It is difficult to come from the French League and straight away to a big club like Chelsea. In England it is tough, it is stronger, everything is quicker and you have to get some games to get used to the English game.