Aug 19, 2010 4:35:00 Am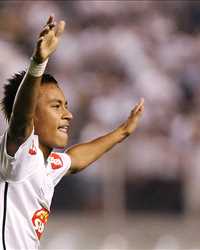 Neymar - Santos x Vitória (site oficial)
Chelsea officials are apparently considering withdrawing their offer to sign Brazilian starlet Neymar from Santos, according to a report from The Independent, after the teenager's club offered to make him their highest paid player.

Santos have also apparently informed Chelsea that the Londoners must pay a €35 million transfer fee or miss out on the player.

The Santos president, Luis Alvaro Oliveira, has reportedly briefed the Brazilian media that there will be no shifting from that asking price for the 18-year-old.

The player himself is understood to be reluctant to move to a club where he wil play in the reserves, with the main impetus for the move believed to be coming from the player's father and agent, Wagner Ribeiro.

Neymar's represnetatives are set to respond to the Santos offer this week. The Brazilian club are believed to have made the youngster an offer to increase his wages from 160,000 Brazilian Reais (€70,000) a month to R$600,000-a-month (€270,000), as well as a share of the club's commercial deals.

Chelsea are understood to already have had an offer of €20m rejected and are prepared to go as high as €28m.

Mano Menezes, the new Brazil coach, declared this week that he felt Neymar should not join Chelsea, as the saga surrounding the signing of a relatively unproven player continues.